This post contains affiliate links. If you choose to use them, we earn a commission.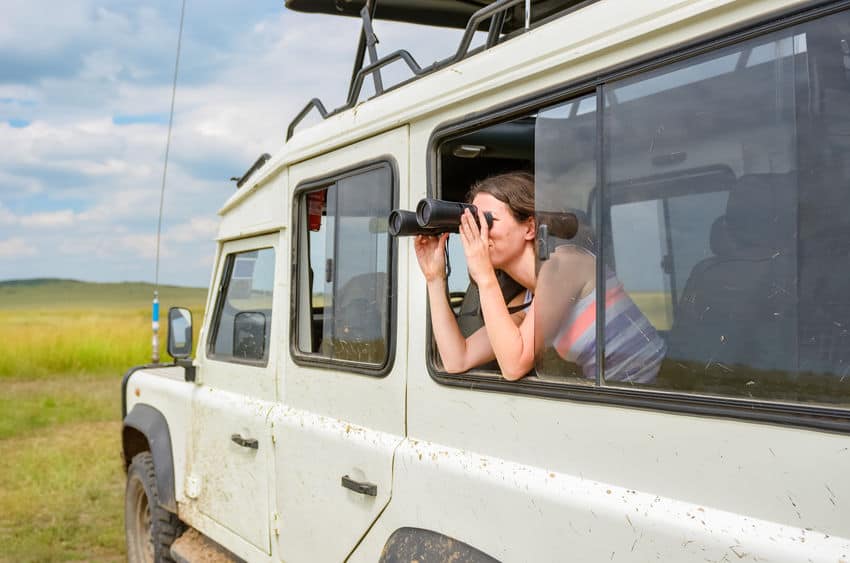 A good pair of binoculars is more or less a necessity when going on a safari. The right pair of binoculars can last for decades and will significantly improve your experience and the overall enjoyment and quality of your safari more than you can imagine.
I have done my best to explain everything you need to know when buying binoculars as well as suggested some specific models for different budgets in this post. The links in this post go to Amazon where you can see the current prices.
The most important takeaway from this post is that while you should not spend too little on a pair of binoculars, there is also no need to overspend. You can get an excellent pair of binoculars that will greatly improve your safari experience without breaking the bank.
I personally use and like binoculars with 8×42 magnification and lens diameter but I also like 10×42 ones so most of the binoculars I have recommended in this post have these specifications. If these numbers mean nothing to you, you can skip the first few headlines and scroll down to the "What to Look for In a Pair of Binoculars" section where I explain them and some other things that are great to know about when considering what binoculars to get.
The binoculars I have recommended in this post are ones where I think you get good value for your money, but they are just suggestions. If you do not like these specific models, you can see many other models with similar specifications by following the links.
Best Binoculars Under $100
The BAK4 from Focevi offers a crystal clear image and excellent zoom while still being lightweight and compact, so it is easy to carry with you anywhere. These binoculars are even waterproof so you don't have to worry about them in rainy weather.
Best Binoculars Under $600
The Nikon Monarch 5 8×42 is an excellent choice. They have a clear and sharp image, great focus, and a nice design. If you are up for spending just a bit more than that, the newer Nikon Monarch 7 8×42 looks a bit nicer (in my opinion), but it seems like the changes from the Monarch 5 are mostly cosmetical. Both the Monarch 5 and 7 are waterproof and very durable.
Best Binoculars at Any Budget
If you are looking for the absolute best money can buy, Swarovski 10×42 EL or Leica Noctivid 8×42 (or 10×42) are both completely outstanding and among the absolute best of the best. These are excellent for avid safari tourists but are mostly meant for people who use binoculars very often (or people with a very high budget for binoculars). These binoculars are not necessary for most people.
What to Know Before Buying Binoculars
Spending too much on a pair of binoculars can provide you with specs and features only the most advanced users will have any benefit from so there is no need to overspend. Spending too little on the other hand, can affect quality and durability and you can miss out on some very useful features such as dust- and waterproofing.
Before you go ahead and purchase a pair of binoculars, it is important that you consider what the purpose of the purchase is.
Since you have found your way to my website about African wildlife, I will make a bold assumption and say that you are probably interested in a pair of binoculars that will enhance your safari experience.
Many of the animals you will want to see on your safari are nocturnal and your chances of spotting them are better in the very early or the very late hours of the day when the sun is not fully up. To improve your experience when looking for nocturnal animals on your safari, I recommend getting a pair of binoculars that work well in low-light conditions.
In addition to this, features such as dust- and waterproofness are not uncommon in good binoculars. I personally like and use binoculars that are both dust and waterproof as it means I do not have to worry about the weather and I do not have to pack my things up and head home if it begins to rain.
Lastly, it is important to know about the specs of your binoculars as this affects both the zoom level and the field of view of your binoculars. More on this in a bit.
What to Look for In a Pair of Binoculars
Specs. When looking at binoculars, you will see a number that gives you info about the magnification power and the objective lens diameter. This number can for instance be 8×42. In this example, 8 is the magnification power and 42 is the diameter of the objective lens. The higher the magnification power is, the closer your target will appear. Higher magnification power can also make it more difficult to hold the binoculars steady. I personally use and like 8×42.
Lowlight conditions. Some binoculars are made in a way so that they work extra well in low-light conditions. This can be very useful when you are out looking for animals before sunrise or after sunset but they also work great during the day.
Parts. This one is much more low-tech than the previous two but definitely still worth considering. Some binoculars come with cases to keep them in or straps to keep them securely around your neck or over your shoulders. I like having a strap on my binoculars so that I know nothing will happen if I happen to drop them.
Comfort. The touch and feel of binoculars can vary greatly and it is a good idea to find some that fit you and feel comfortable in your hands and on your eyes.
Weight. The weight of binoculars varies a lot and is also worth taking into account. For some people, heavier binoculars will do just fine but if for instance, you're buying binoculars for your kids or you have trouble holding the binoculars completely still, a lighter pair might be a good idea.
Price. Make sure not to buy the cheapest binoculars you can find as the quality and thereby your experience will be negatively affected and you might have to replace them within a few years anyway. High-quality binoculars can last for many years and sometimes even for a lifetime.
Design. Make sure you buy a pair of binoculars you really like. Sure, the design won't necessarily affect the quality but if you end up buying binoculars you don't really like, you will likely replace them eventually anyway so save yourself the money and the trouble and buy some you really like from the beginning.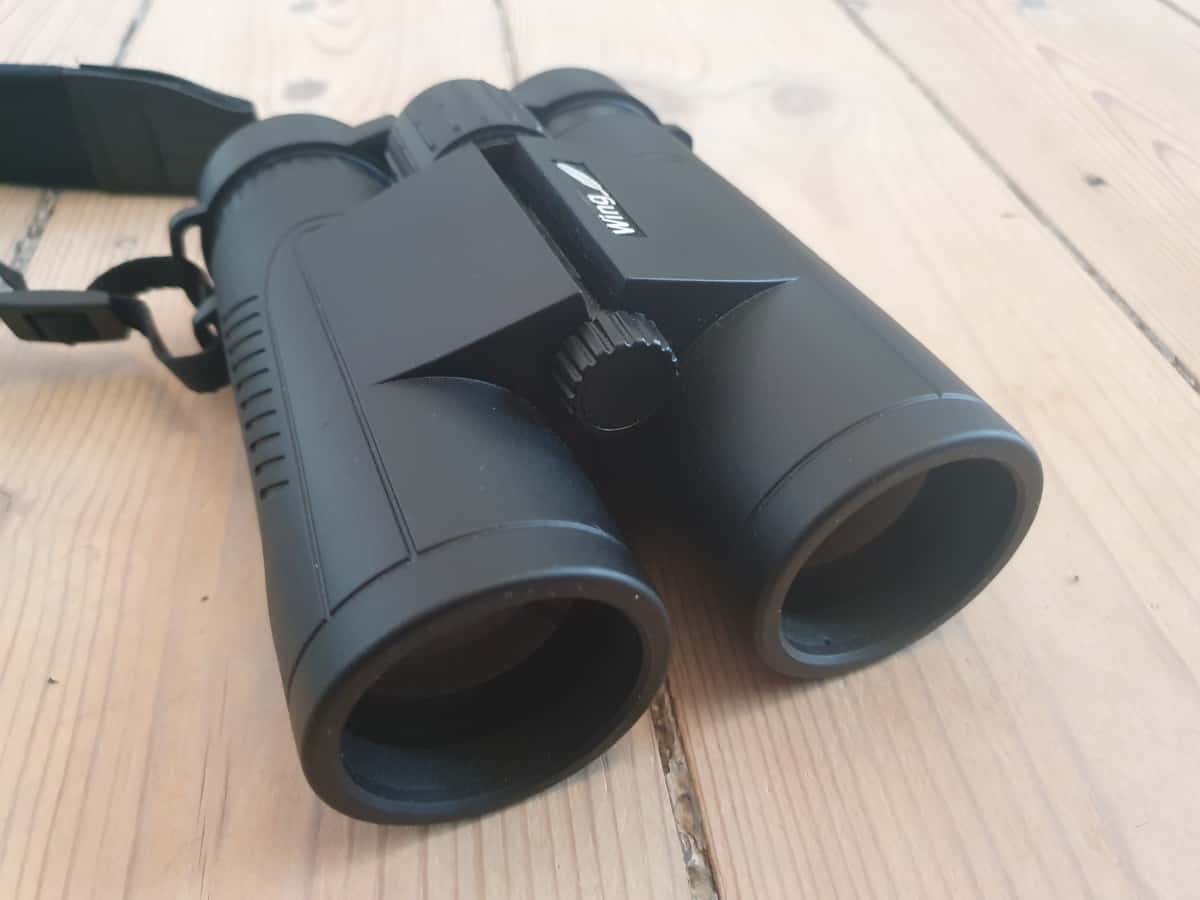 How to Fit Binoculars to Your Eyes
Everybody are different and so are their eyes and vision so to get the most out of your binoculars, it is important to fit them to your eyes. We will do this in four simple steps.
Eye caps
Most binoculars have eye caps which can either be folded in or out by twisting them to adjust the distance between your eyes and the binoculars.
If you wear glasses, you may want to fold them in (as seen on the left eye cap in the picture of my beloved binoculars below). If you do not wear glasses, try unfolding them (as seen on the right eyecap below). People have different preferences and most importantly, different eyes, so go ahead and try both and see what fits you.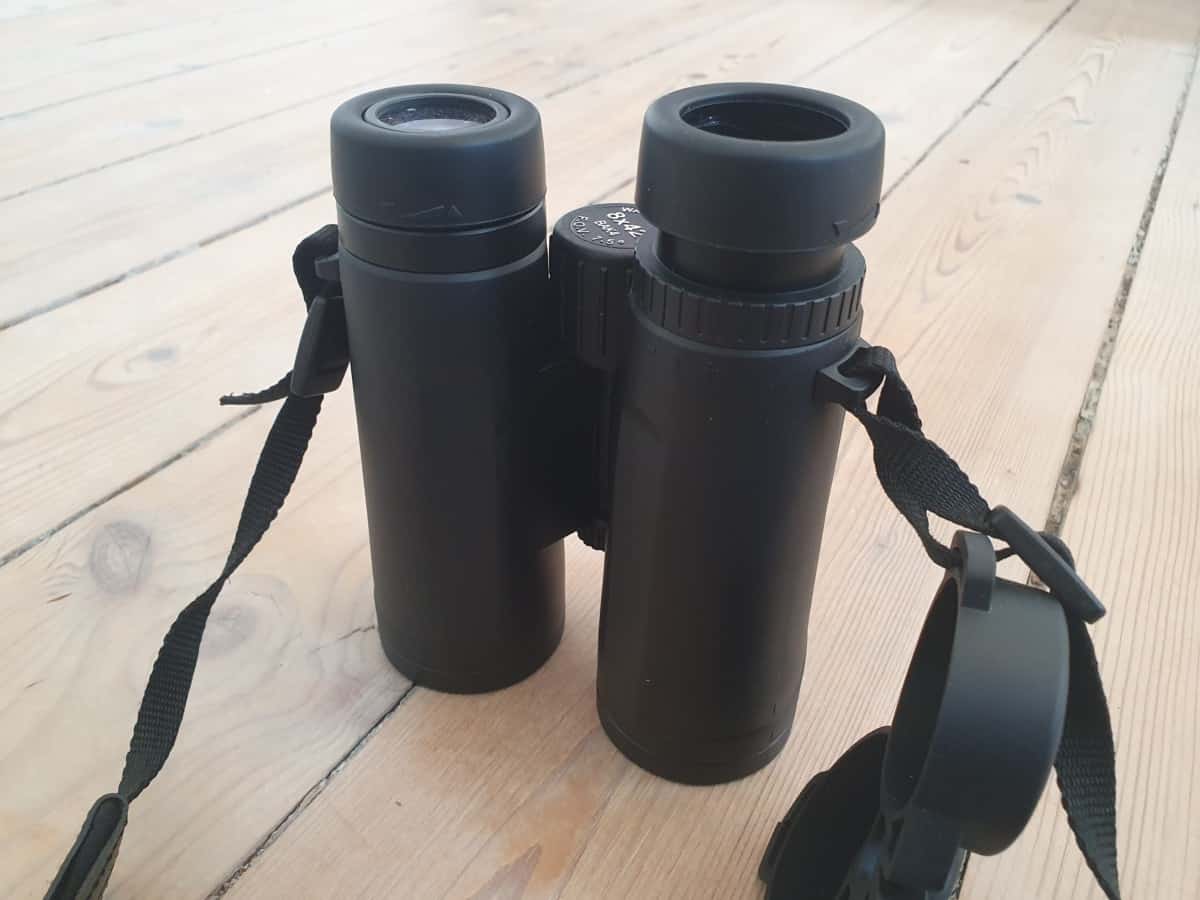 I do not wear glasses myself and both folded and unfolded eyecaps actually seem to work just fine for me.
Width
Next, you want to adjust the width of the binoculars. More specifically, the distance between the two eyepieces. This is done simply by moving the two parts closer or further apart. The best way to find the width that fits you the best is to simply just try it out. The goal is that you should have a full image in both eyepieces when looking at a distant object. Try focusing on a distant object and then closing first one eye and then the other and then keep both open. Ideally, you should have the same image all the time.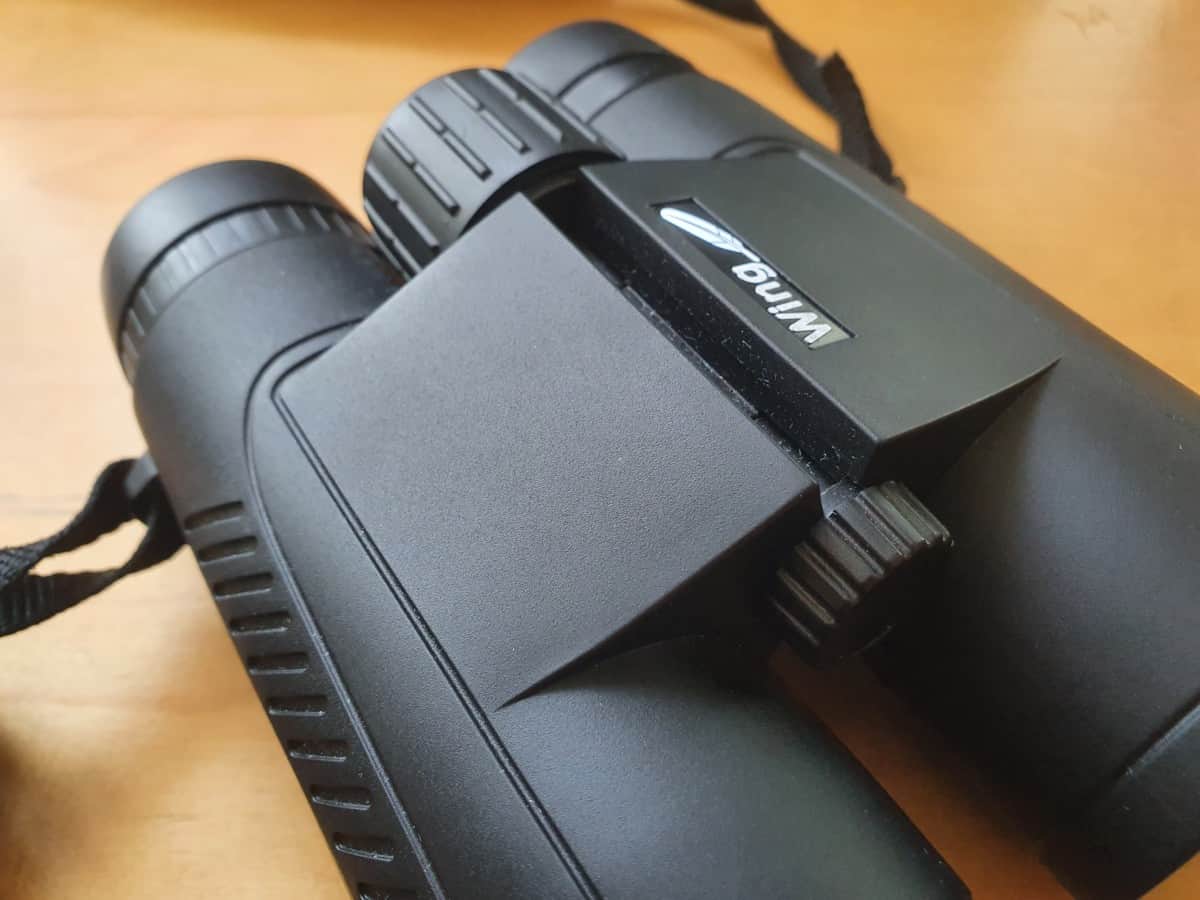 Dioptric adjustment
The dioptric setting is there to compensate for any difference in strength between your eyes. You adjust this by first locating the diopter adjustment. On my binoculars its on the right eyepiece (see image below) and then only keeping that eye open while looking through the binoculars at a reasonably distant object and turning the diopter until the image is sharp and clear.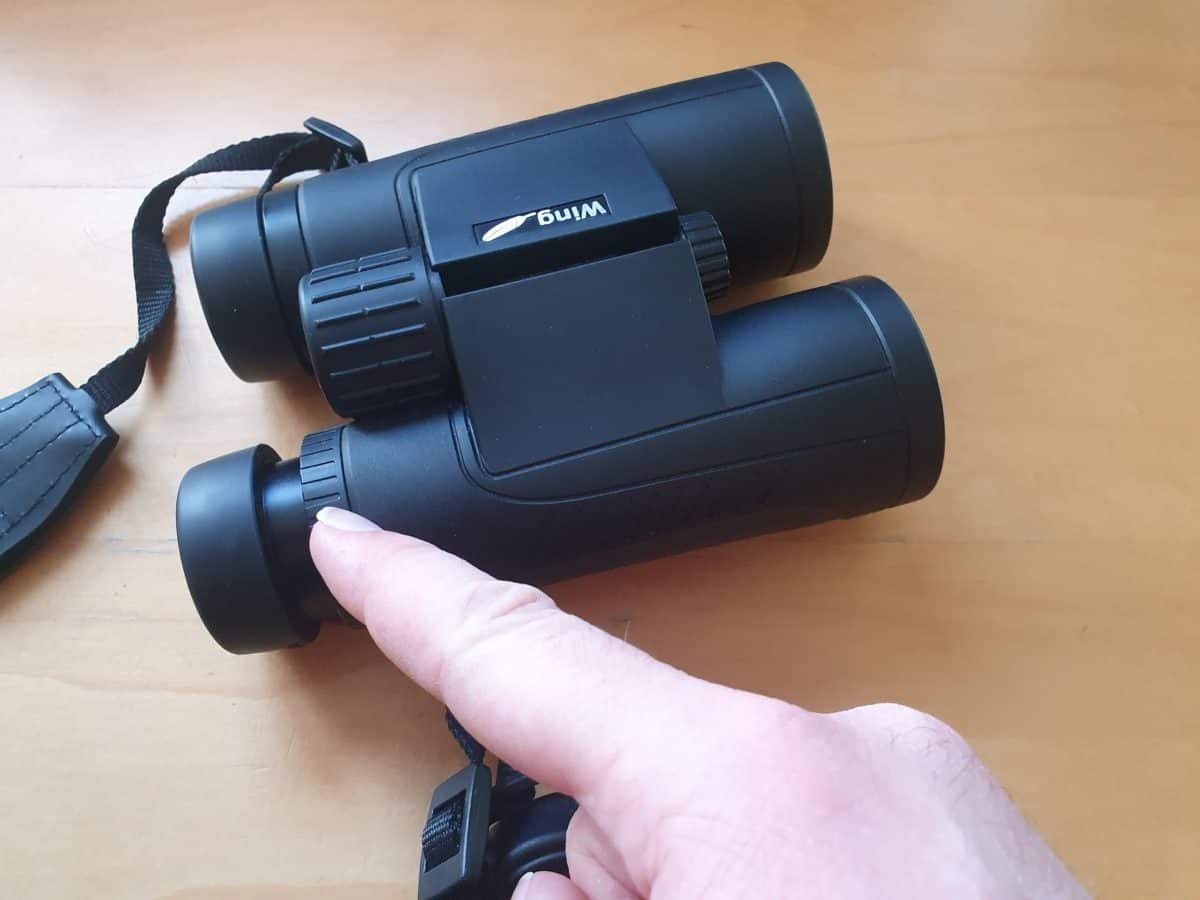 Focusing the binoculars
Lastly, you want to fully focus the binoculars. Do so by looking through the binoculars at the same object as before with both eyes open. Now turn the wheel in the middle of the binoculars (see image below) until you see a fully clear image.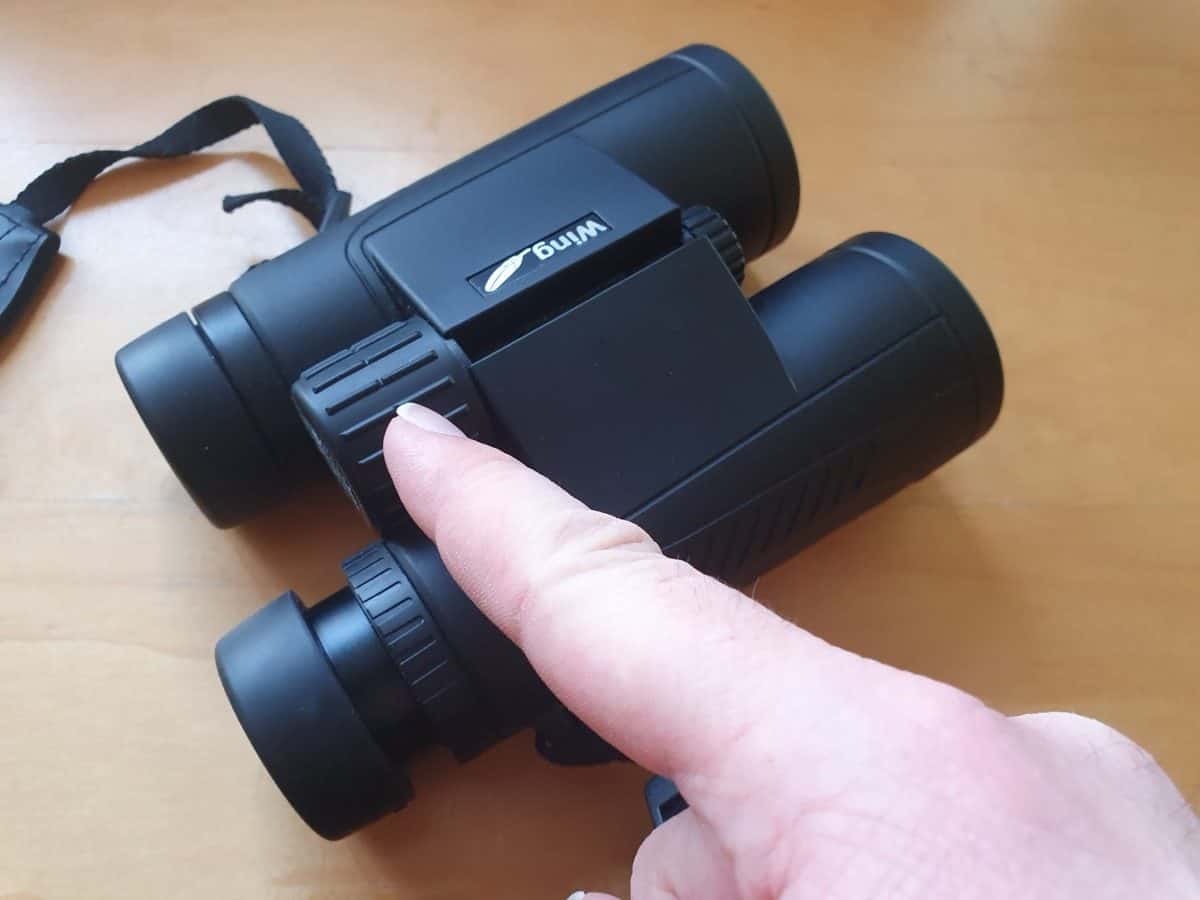 Try playing around with these settings a bit until you get a perfectly clear image.
Top Binoculars Brands
I have done a ton of research on different brands and models of binoculars and placed my winners in three categories based on their price. First, the very best that money can buy, then the best value-for-money binoculars where quality at a reasonable price has been prioritized and lastly, the best binoculars under $100.
The best of the best
If you simply want the best of the best and are prepared to pay for it, these three brands are widely considered to produce some of the best binoculars that money can buy.
These are brands where you can be absolutely certain that you can count on the quality. Both the look and feel as well as the sharpness of the image are unlike any other binoculars I have ever used. You cannot go wrong with these three brands.
High quality at a reasonable price
If you are looking for brands that produce great quality binoculars that are more reasonably priced than the above, these are some highly recommended brands.
Best binoculars under $100
When you are on a safari, having a pair of binoculars is infinitely better than not having any and if your budget for binoculars is not large enough for the binoculars I have recommended so far, then you might want to take a look at some of these brands that offer some binoculars at a lower price.
---
Best Binoculars Under $100
Best Binoculars Under $600
Best Binoculars at Any Budget
---